Volunteer registration for The Great Escape 2018 is now open.
Each year we offer up to 300 volunteers the chance to gain first-hand experience of life working in the music industry with a variety of roles over the course of The Great Escape. These roles are available in many different areas including Venue Management, Technical Production, Convention Support, Festival Production, Delegate Registration, Artist Registration, Wristband Exchange and many more.
Register your interest in volunteering at this years TGE here
To get the latest information about volunteering at TGE, join our dedicated Facebook group by CLICKING HERE
If you have any queries about volunteering at TGE, you can email volunteer@greatescapefestival.com and one of our team will get back to you.
Our amazing volunteers are the reason The Great Escape is such a successful festival for new music.
"It was an incredible time with moments that I'm going to remember for the rest of my life! Thanks to the team, it's these people that really make the experience what it is!" Amy, Volunteer Crew
"I love being part of the TGE volunteer team. For a few days, Brighton is buzzing with music fans and it's great to feel like you're part of making their weekend memorable. Also, you always end up meeting such a fab variety of people volunteering, all united by a love of new music." Martha, Artist Registration Volunteer
"When I applied to volunteer at The Great Escape, I was hoping to get a glimpse behind the scenes of a music festival, but I ended up getting so much more out of it. It was the people I met who truly made the festival an unforgettable experience; I feel I have grown personally as well as professionally. I came home more inspired than ever to follow my dreams and for that I can't thank you enough." Mia, Wristband Exchange
"Thanks for having me as a volunteer, I honestly had the best time ever and I can already see the experience changing my life. Every time I do something like this I realise more and more it's what I want to do with my life and I've returned to London with a big smile on my face." Anna, Venue Rep Assistant
VOLUNTEER ROLES
Artist Registration
Volunteers on this team will learn about how the onsite registration of performing artists is done. This team liaises with and greets tour managers on site, checks names against online registrations, prints and distributes artist credentials and any relevant materials.
Convention
You will be shadowing the team in charge of the Convention programme. This team liaises with the venue staff, the technical crew & the Convention Production Manager; prepares and oversees the venues hosting the Convention programme; puts up branding and signage; sets up and helps run conference panels, parties, networking events; meets and greets panellists; welcomes and assists convention attendees.
Delegate Registration
You will shadow the Delegate registration team who is in charge of greeting delegates, checking names against online registrations, printing and distributing delegate passes and handing out the goodie bags.
Event Support Crew
You will learn about the delivery of several aspects of the festival, this may be shadowing Event control or the production, logistics and volunteer teams.
*Event Reception: you will learn about the key role of the Production office team and will shadow the team on a variety of admin tasks, distributing staff accreditation, assisting with guest lists, taking and processing requests from venue teams.
*Event Control: you will learn about the internal communications across the festival, how to operate a radio and log conversations, how reporting processes work and are key to a smooth operation. This role is located in the main Control office which manages all radio and site communications for the event. It is a very fast paced environment with a great deal of information coming in at all times.
*Logistics: you will shadow the team who manages the branding and sponsorship activations across all official TGE venues. The Logistics team is responsible for the management and dispatching of banners, branded and sponsor merchandise, riders allocated to each venue/band.
*Special events: you will learn about how temporary events come to life with the Special events team who oversee the street gigs and secret city events. Their role is to set up events that run for a limited time, organise crowd flows within a given area and follow a tight schedule.
*Volunteer Registration: you will learn about the volunteer registration process, the briefings, daily checking-in/out, how volunteers are managed across the festival.
Venue Assistant
Venue Assistants will be assigned a venue for the duration of the festival and will shadow the Venue Rep based at that location. You will learn about the general running of the live shows backstage and front of house, guest lists, the interaction with the artists, venue staff and festival-goers.
Venue Tech Assistant
Volunteers will shadow a venue technician or FOH engineer who set up for each band, run the stage and control the show. You will learn about backline, live audio and lighting. Ideally technical crew volunteers will have some sound engineering or music production knowledge and an understanding of how a live performance works.
Wristband Exchange
Volunteers will be shadowing the Wristband Exchange team. You will see how festival ticketing works, learn about delivering excellent customer service and where to find information about the festival and events taking place.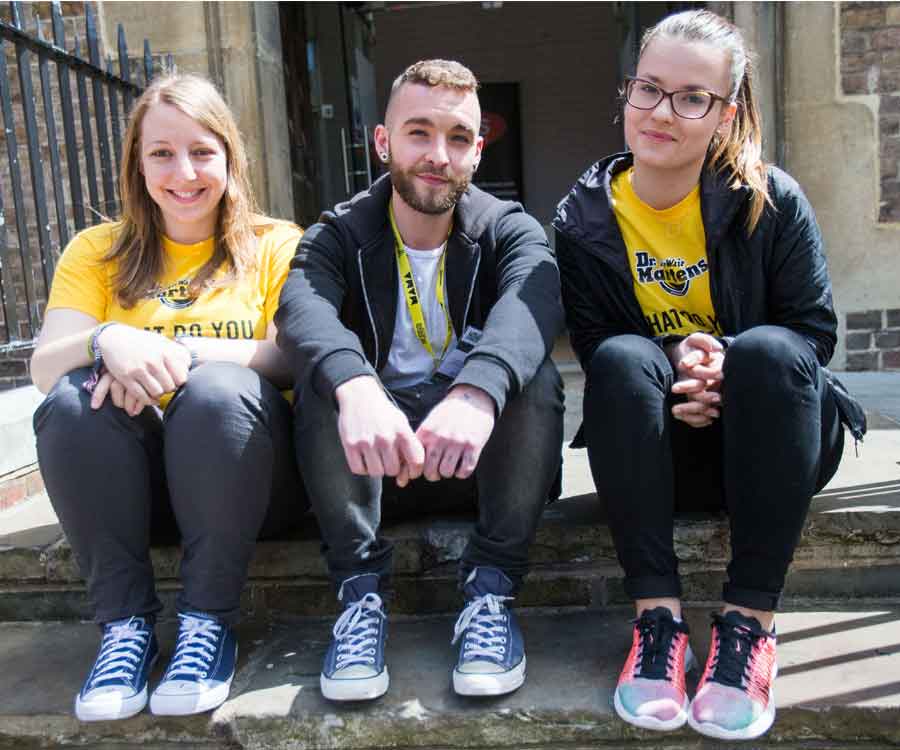 ---