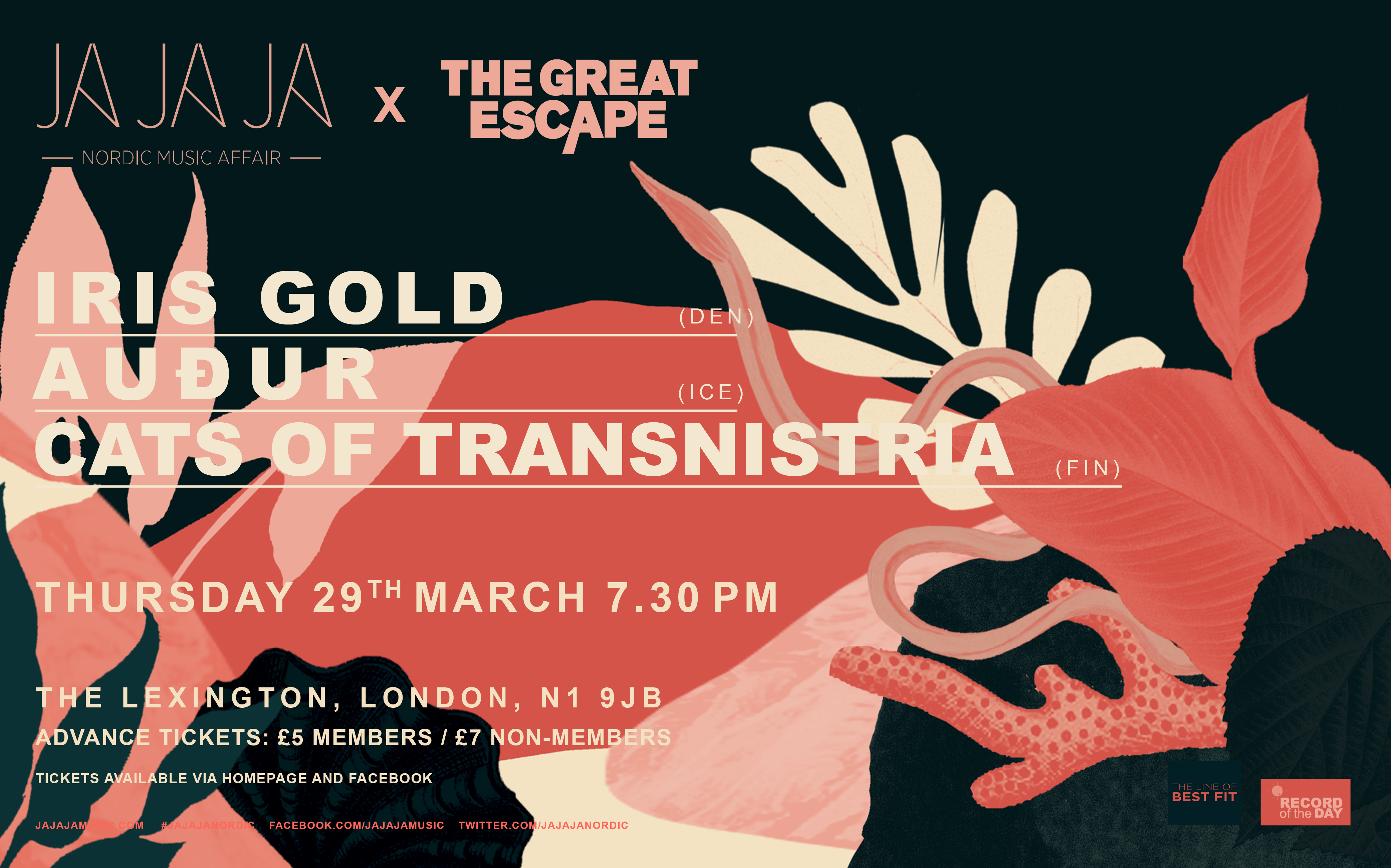 We are delighted to once again be teaming up with Ja Ja Ja to host a special showcase filled with performances by some of the finest new Nordic artists; Denmark's pop gem Iris Gold, Icelandic R&B from Auður and Finnish hypnotic experimenters Cats of Transnistria. Get acquainted with the full line-up below, and we'll see you at The Lexington on Thursday 29th March!
Tickets on sale now; £7 in advance and £5 for Ja Ja Ja members
Sign up HERE to become a Ja Ja Ja member for discounted tickets, free merch and other Nordic delights.
Iris Gold (Denmark)
Having released her inspirational track 'All I Really Know' last year to critical acclaim, Iris Gold kick starts the New Year with a powerful, emotive 5 track EP 'Iris Gold The Interlude' produced by fêted London production duo The Confect.
Iris explains of the video: "'The Fruits' track was heavily inspired by the scene where Eddie Murphy meets Imani Izzi in the movie 'Coming to America' in the marriage ceremony. A lot of tribal Fela Kuti was blasted whilst the track was being created. The video was made with my aunty Toniah Pedersen and Issam Talib. It features my homeboys Ricco and Bobbi, busting some sensual moves for the ladies and gents."
Auður (Icelnad)
Following in the footsteps of Of Monsters and Men, Sigur Rós and Kaleo, 24 year old singer/producer Auður was awarded best Newcomer at the Icelandic Music awards in 2017. Since then he has released his debut EP, opened for Post Malone and become part of the respected RBMA alumni.
Auðunn Lúthersson cut his teeth playing with Icelandic hardcore and noise-rock bands. After seeing James Blake at Sónar in 2013, he reinvented himself under the pseudonym AUÐUR (pronounced "Author"), switched over to electronic music and dropped his debut album, Alone, at the beginning of February. Alone is a slick and sensual take on R&B and explores the themes of isolation and longing. During Iceland Airwaves 2016 AUÐUR offered festival-goers an exclusive pre-listen to the album in Pokémon GO style at a downtown square in Reykjavík. Over 4000 people hunted it down via their mobiles. No stranger to doing things his way, AUÐUR later filmed a visual version of the album in one take in a secluded room at an abandoned power plant on the outskirts of Reykjavík. The results were premiered and screened live from Harpa, the city's world famous concert hall, and ran in a continuous loop for 24 hours to mark the beginning and end of Groundhog Day.
Cats of Transnistria (Finland)
Cats of Transnistria are the Helsinki based trio of Tuomas Alatalo, Henna Emilia Hietamäki and Sanna Komi. They create slow and hypnotic music, filled with both experimental noise and lots of sensitivity and softness.
Cats of Transnistria have just released their second album Opium – the album was recorded and mixed by guitarist and sound designer Tuomas Alatalo. Being in total control of the recording process is a further step for the band in widening the soundscapes and being even more specific to the world Cats of Transnistria are creating. In addition to Hietamäki and Alatalo – recent new member, the violinist Sanna Komi – is featured on the album, adding profound beauty through her string arrangements.